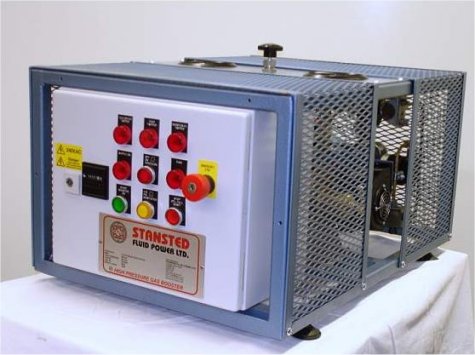 DTB10C - Type 3
The Type 3 is the most advanced system of its kind available in the world. The new updated version builds upon our experience with gas management to provide in one compact system, all the features that are required to achieve a high duty cycle in a safe controlled manner. The Type 3 brings together all the management factors on one control interface. We have both Inlet and outlet control gauges as well as a supply pressure gauge and an inter-stage pressure gauge. The latter is an important indicator to correct booster function. A needle valve is fitted to control the initial decant flow rate, and a system drain valve is fitted which vents through a capillary which restricts discharge rates to a safe level . Both the drain valve and the additional PED certified Oxygen rated safety relief valve can be piped away to vent into the room extraction system to prevent O2 build up. The system has two distinct filling modes selected as PM or KO on the control panel switch.
PM - Pressure maintain.. This mode will ensure the maximum fill pressure is achieved as the system will cut off at the selected pressure but after a period of cooling will re-start the system to bring the pressure back to the set point. If filling small cylinders of approx 1litre, this feature will prove very useful as pressure drop after cooling will be greater than with larger volume cylinders.
KO - Pressure knock off. This function will; simply cut out at the pressure set point and will not re-start.
The electrical control panel incorporates a number of fault indicator lights and a number of sensors relay system integrity to the operator which in turn can provide our technicians with the information to diagnose fault conditions over the phone. Historical data indicates that 95% of issues are resolved in this way, without and engineer having to attend. We have a number of these units in use with the UK's largest Fire brigade and the 4 years in service has resulted in a 50% reduction in service costs compared to the Pneumatically driven pumps they replaced. Call us to discuss your application and any special requirements you may have.
Type 3 - Specifications

Maximum outlet pressure 350 bar

* Minimum inlet pressure 25 bar. A version is available to operate from a 20bar inlet to 200 outlet

Flow rate 45 to 55 normal/litres/min continuous. As this is a 2 stage(2 piston) with a regulated inlet pressure the flow rate is a constant.

Electrical supply 240v or 414v 3Phase. We can supply this booster with a variety of motors to match the power supply in most locations in the world.

Power consumption 0.55w

Inlet connection 1/4" BSP. We can provide a connection size and type to suit your preference.

Outlet connection 1/4" BSP As above

70db noise output.

Approximate dimensions 500mm(W) 500mm(L) 300(H)

Weight Approx 35KG
Key Features - to follow

* Inlet & Outlet Control gauges

* Supply pressure gauge

Inter-stage pressure gauge

Emergency stop button

Two charging modes

Fault Indicator lamps

0- Hours run meter

Gas Bypass via with needle valve control

Outlet cooling coil

Bulkhead connectors for inlet and outlet . Fitting type as required

PED compliant Oxygen safety valve

Approx Dims: 700mmL x 500mmW x 360mmH
Type 3 Control Panel