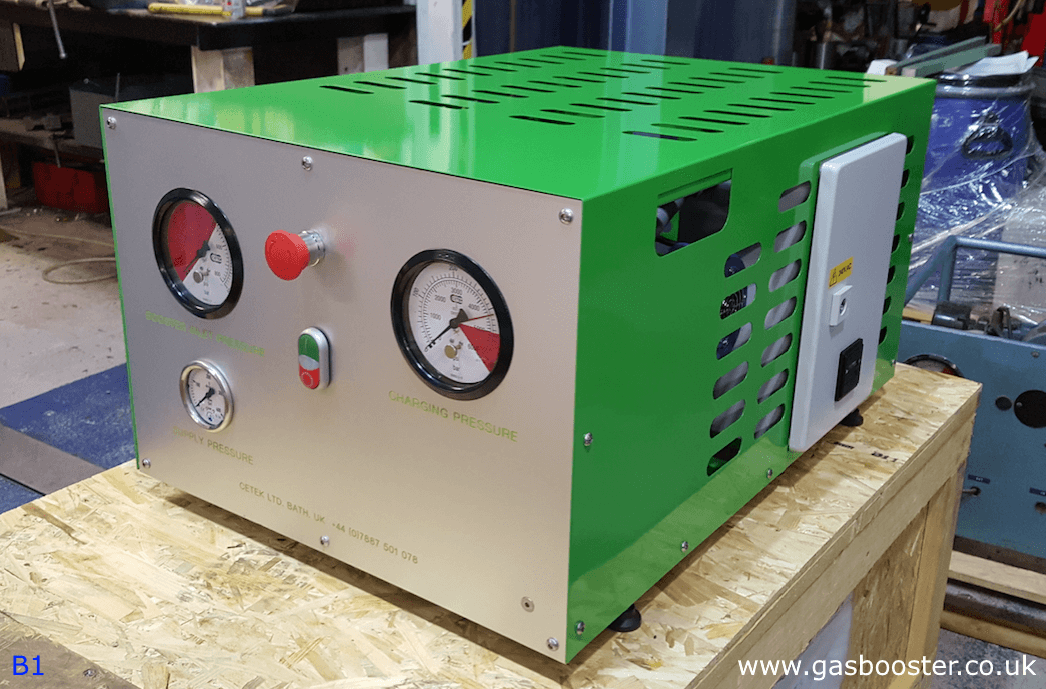 This two gauge version with forward facing control panel in the standard frame is the most popular configuration. Gas Inlet/outlet & power positioned at the rear. Application: Mixed gas diving. Qatar.
DTB10C - Type 2
Variations of the Type2 are by far the most popular system supplied. At the stage of placing and order you will have a good understanding of how the booster works and how it will be integrated into your planned project. The start of the system design will be to determine if you are best suited to a top or front mounted control panel. Gas inlet and outlets can be positioned to suit the installation. It is commonplace when deciding on the first level of automation to opt for the OUTLET control gauge. This is a mechanical/electrical device which can be user set to switch off at the desired set-point after manual activation. The Standard frame into which the Type 1 is then mounted provides us with bulkhead attachment for gas Inlet/Outlet points. The Inlet pressure regulator can be mounted internally and the gas bypass can be built in which allows for the initial decanting of gas to be balanced through the system prior to starting the booster. Overall this provides a tidy one hose in, one hose out and power chord arrangement. As no regular maintenance is required the system can be stowed away leaving only the front access for the control panel. Another level of safety automation is the fitting of an Inlet control gauge which is factory set to switch off at the minimum inlet pressure so you are protected against running it out of gas. The pump assembly is supplied with powder coated machine covers to prevent hand injury, in line with BS & CE legislation. Technical support is provided out of hours 7 days per week.
Custom Built frames and cabinets
For customers that require to contain the booster in a format other than the Standard frame we offer bespoke custom built housings. Custom housings can be designed to suit a particular operating procedure or cylinder charging arrangement. Below are some examples of housings supplied which demonstrate the range of options we can supply. All the examples were supplied as a one off design using the Type 1 booster and various optional features.
Specifications

Inlet pressure 35 barg. Reduced inlet pressure of 25 bar is permitted when outlet pressure required is less than 250 bar

Maximum outlet pressure 350 bar

Flow rate 45 to 55 normal/litres/min continuous.

Electrical supply 240v or 414v 3Phase. We can supply this booster with a variety of motors to match the power supply in most locations in the world.

Power 0.55w

Inlet connection 1/4" BSP. We can provide a connection size and type to suit your preference.

Outlet connection 1/4" BSP As above

70db noise output.

Approximate dimensions 700mm(W) 500mm(L) 360(H)

Weight Approx 30KG
Optional Extras

All hose lengths and connector types can be included to provide a Turnkey system.

Supply pressure gauge

Needle valve gas inlets

Multi-Inlet e.g Separate Oxygen and Helium

* Multi single or manifold charging outlets

Custom colour powder coat finish or cocks drawn all over pattern for machine covers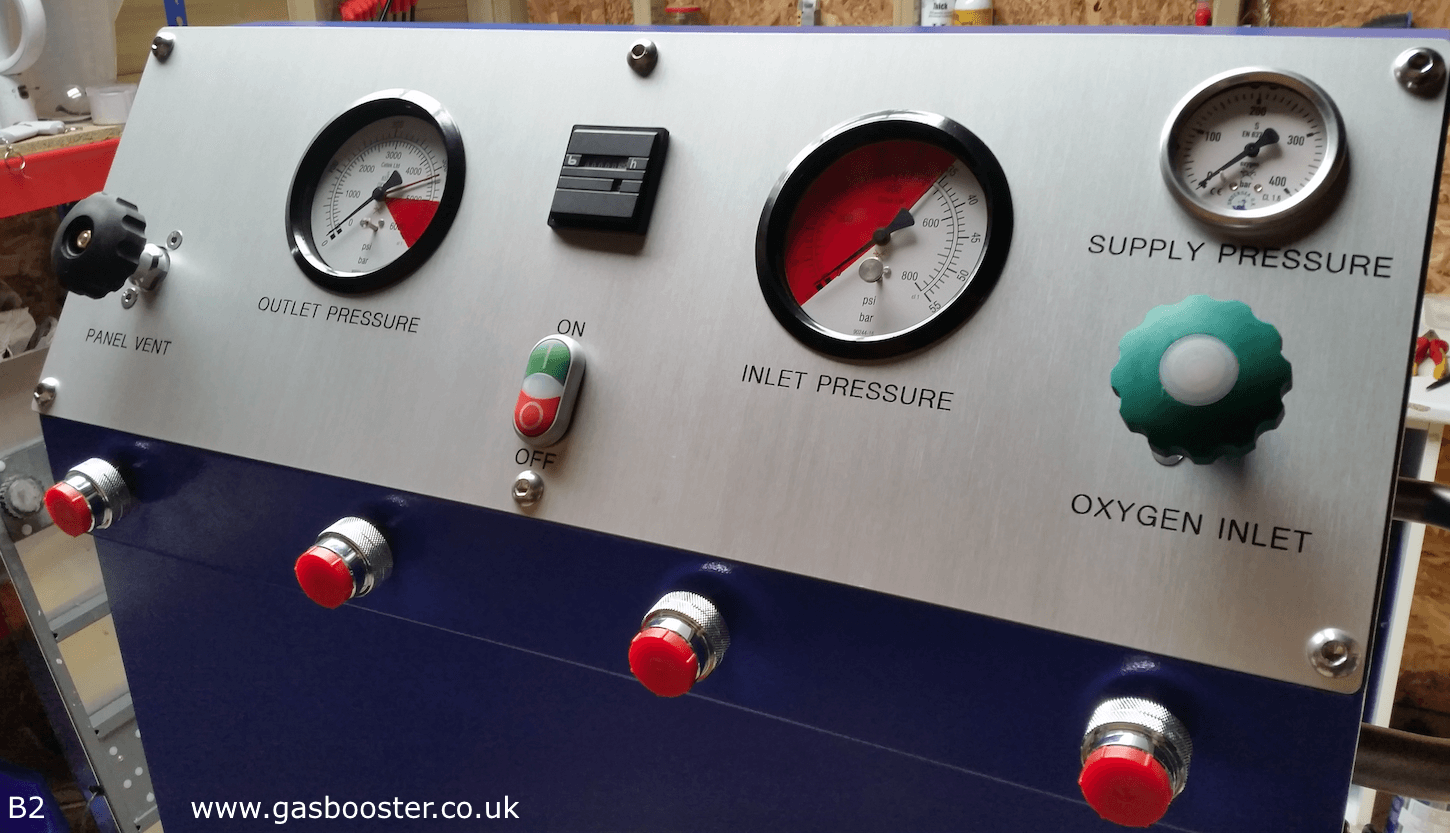 This bench top version with CGA540 outlets allows the 2L cylinders to be coupled directly to the unit without the need for hoses. Application: Mine Rescue. Zambia.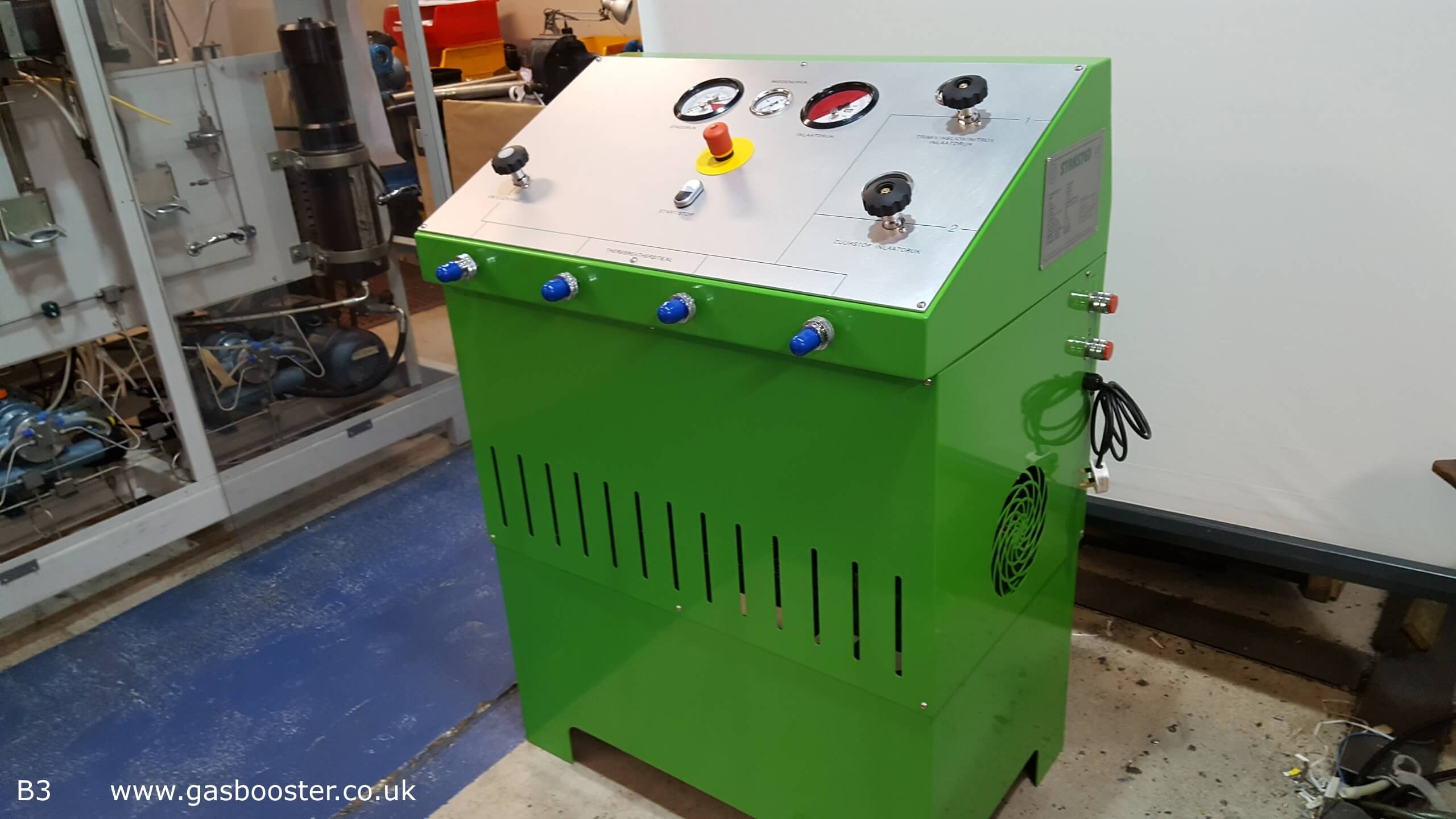 A freestanding unit also allowing cylinders to be close coupled. Features separate Oxygen and Helium Inlets to a common panel. 2L Carbon Fibre Non-Magnetic cylinders. Application: Dutch Military.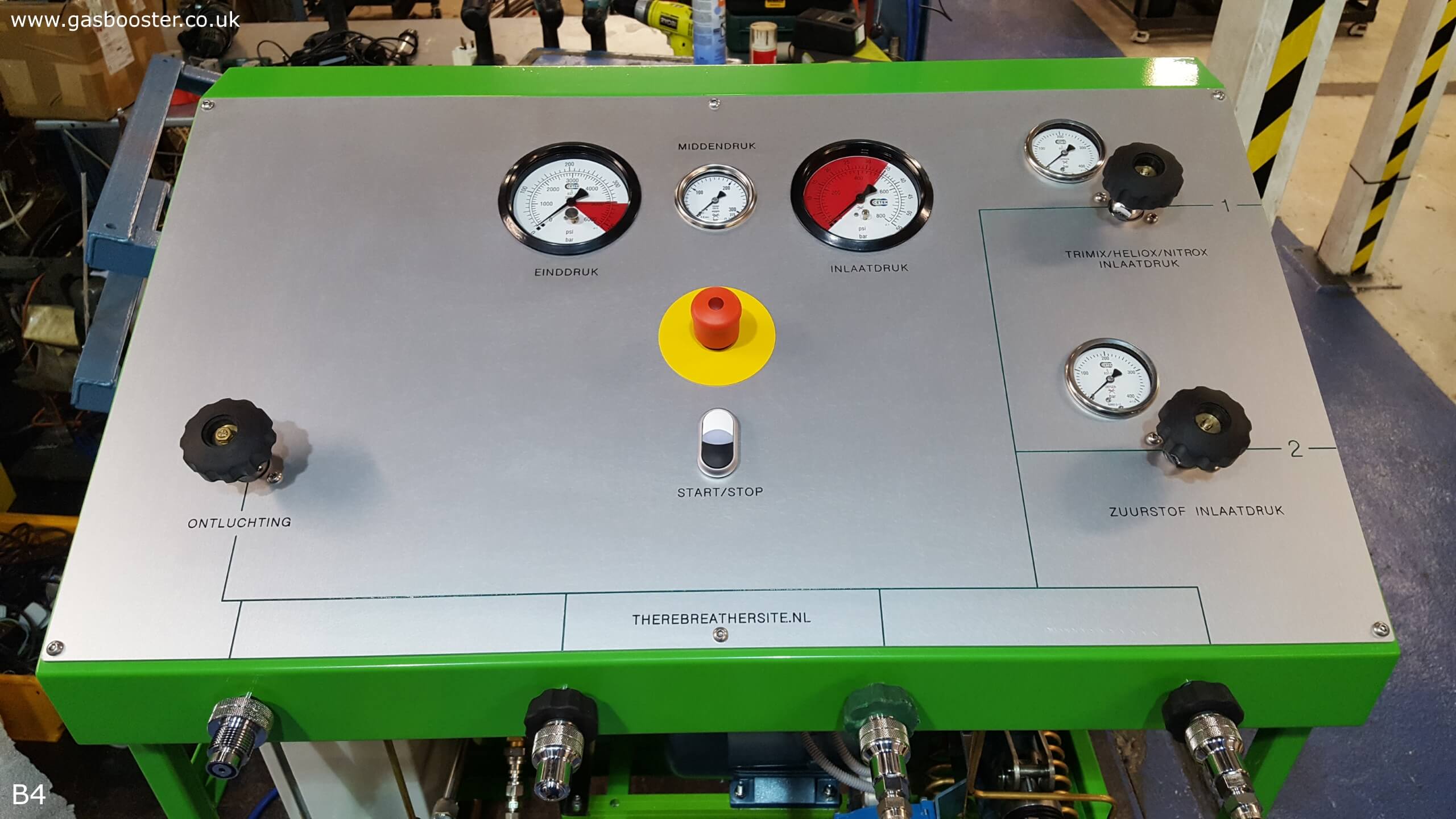 A closer look at the control panel. Outlets blanked for testing.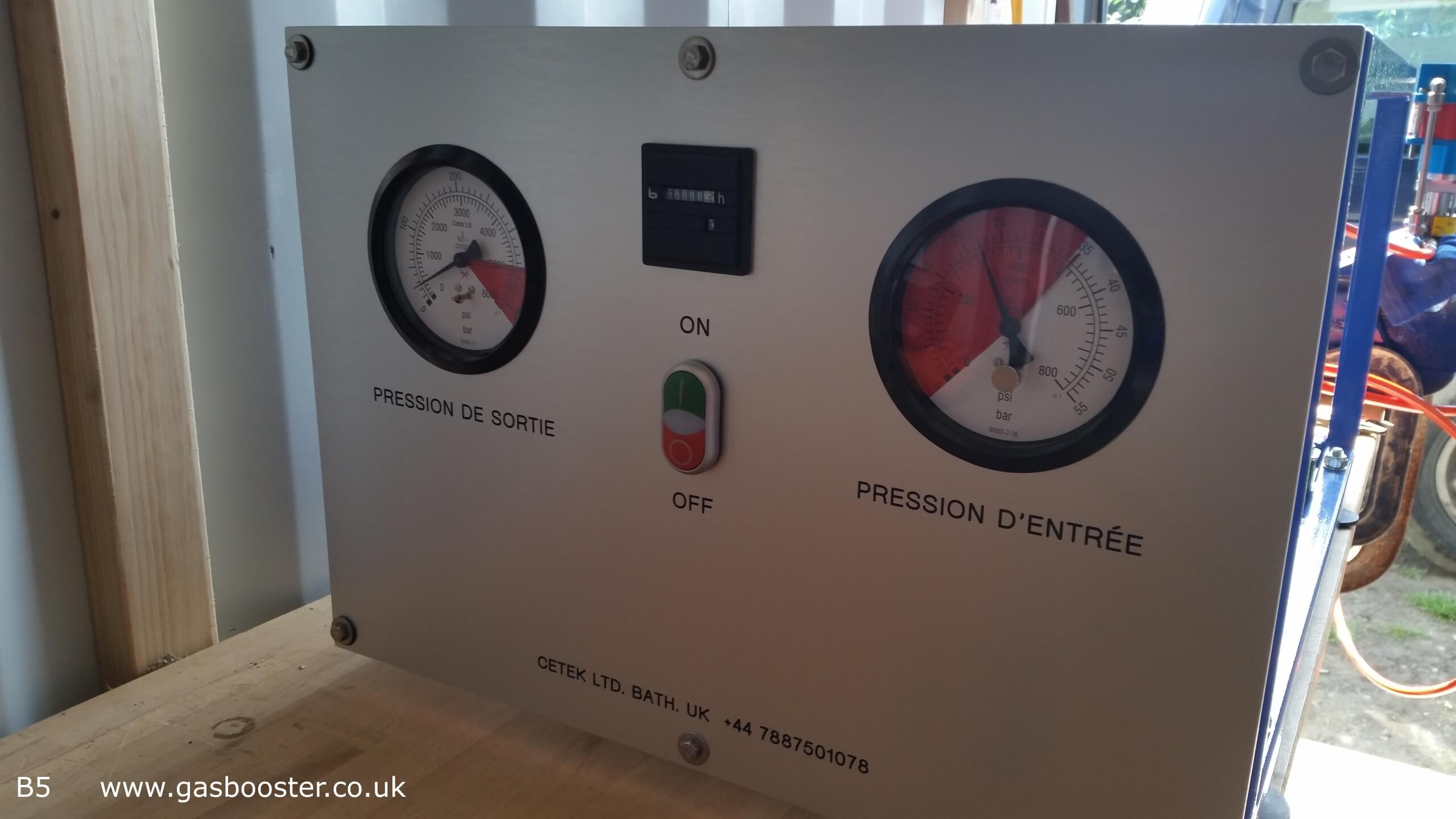 This version features the control panel intended to be removed and fitted 5m away from the booster so a long wiring loom was fitted. It is also fitted with a 415V 3PH motor. The cooling fans for the HP cylinder is clearly seen along with the Inter-stage and after cooling coils both 5.97m long. Gas connections to the rear. Application: Swiss diving club.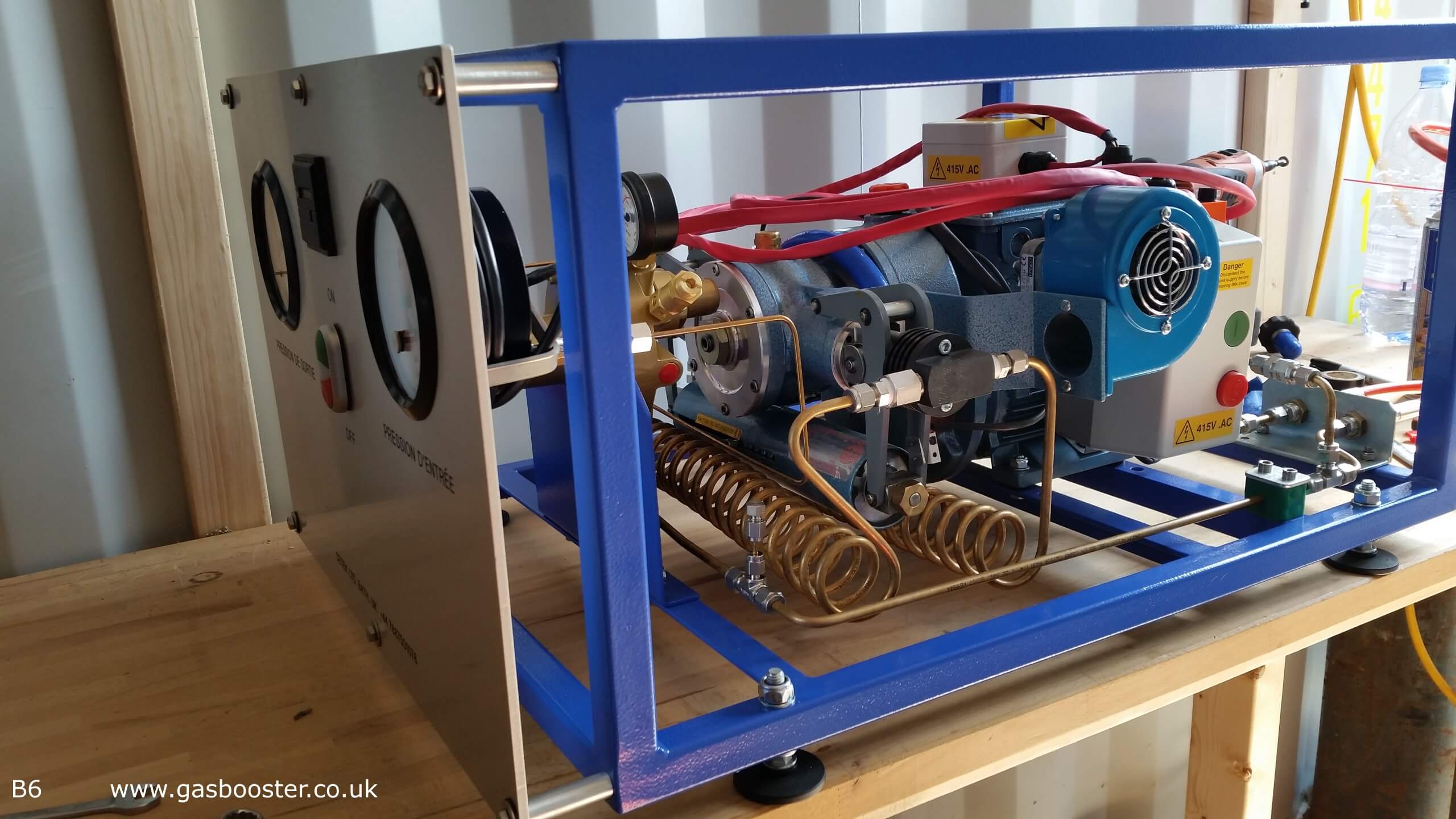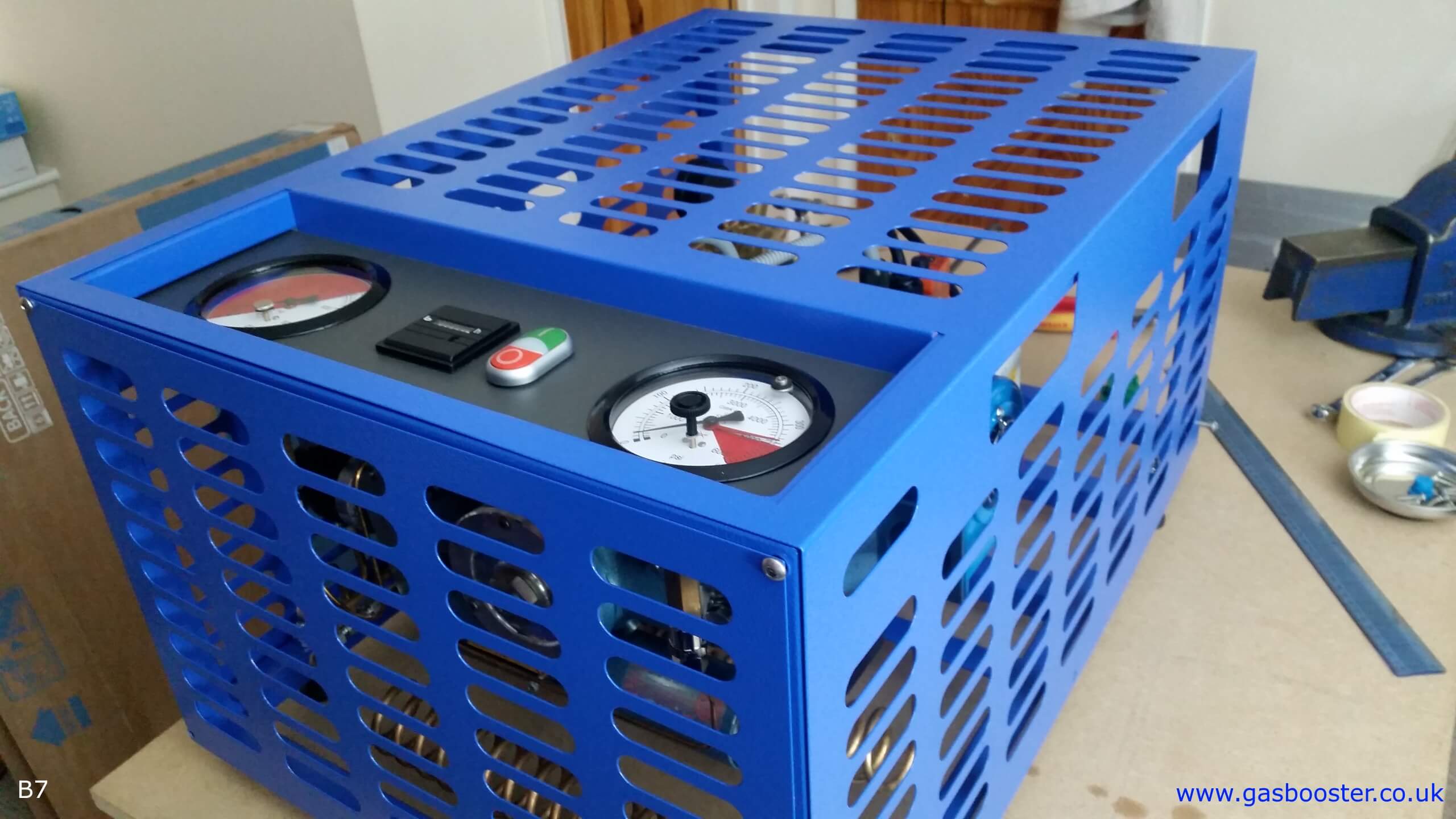 Version with front top control panel and twin control gauges. Application: Techncial diving Qatar.